Importance of Product Data Entry Services For eCommerce Businesses
Why Outsourcing Product Data Entry Services Is Imperative For eCommerce Business?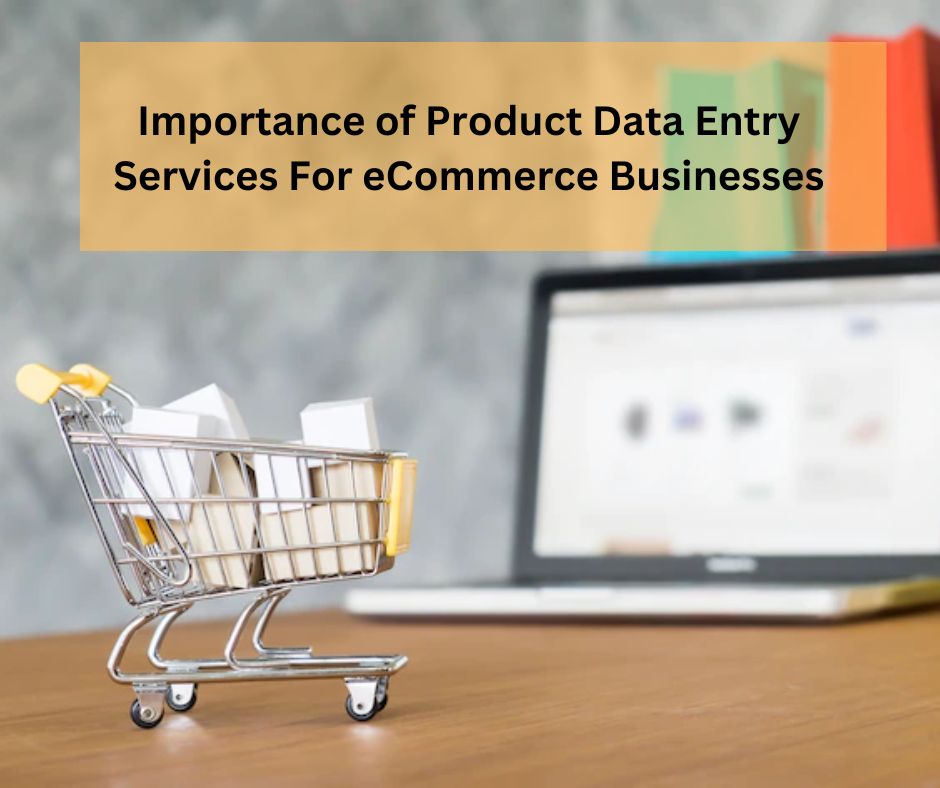 Undoubtedly, the eCommerce business model has become deeply ingrained across all sectors. Regardless of what you sell, it has become very easy to integrate a shopping cart into any solution (app or website) and enable buyers to purchase right when they want to. That is why businesses today need to continuously adjust to the shifting consumer needs and offer a platform for consumers to thoroughly evaluate all products before deciding to buy. The best method to do this involves upgrading your site with up-to-date product data. This is where eCommerce data entry comes into the frame.
Moving to modern tools and technologies is imperative for organizations to remain competitive in escalating consumer demand and diversify their product offerings. However, companies find it difficult to manage other essential core business operations and frequently upgrade their sites with appropriate data simultaneously. The quick fix? Hire a reputable eCommerce data entry services provider with extensive knowledge of the digital landscape.
Product Data Entry: The Concept 
Product data entry is essential to eCommerce data management. It refers to gathering critical data to be checked, stored, protected, and structured. A company must safeguard correct product data because it facilitates critical business decision-making (for both sellers and buyers).
Product data entry solutions include collection, organization, storage, and listing of data in databases or on the eCommerce platform. It encompasses data entry from paper-based and photoelectric mediums into your company's databases, which is subsequently secured and arranged to provide simple access for your organization.
Product Data Entry for Small And Medium Sized Firms
Because of limited resources, small or medium-sized firms frequently overlook the value of product data entry and depend on conventional techniques like Microsoft Excel for data storage. But much like big enterprises, tiny businesses require cutting-edge product data entry techniques and current technologies. Using current product data entry methods, small or medium-sized enterprises can monitor their funds, inventories, deliveries, etc. 
Additionally, when optimized data is accessible, small firms like family stores may keep track of the most popular items. This will assist the company in deciding which goods to keep and which to eliminate gradually. This is significant in terms of financial savings since it prevents investment in goods that are not well-liked by consumers and encourages investing in goods with solid demand.
Product Data Entry For Giant Firms
Product data entry is a critical necessity in giant corporations because they have a great deal of data to maintain. Foolproof product data input procedures are crucial for maintaining customer information, keeping notes of important business dates, and processing enormous data volumes.
Product data entry demands work-intensive processes, such as investigation, cross-checking, collecting, sorting, and adding crucial data. If these jobs are delegated to skilled product listing data entry service providers, they may operate with unwavering enthusiasm and commitment, minimizing the possibility of data handling problems and guaranteeing efficient product data input with minimum to zero mistakes and quality database administration. Effective data management allows a company to develop physically, expand its customers, find new opportunities, and collaborate with like-minded partners. Another crucial advantage of accurate data in the system is learning about your rivals' business expansion.
Therefore, large enterprises must implement the latest data input applications internally, or they may opt to outsource data entry to a third-party service provider. 
How Outsourcing eCommerce Data Entry Services Can Benefit Your Business, Ensure Growth & Maximum Sales
1. Saving A Precious Resource: Time
Although running a business might be difficult, digital business owners shouldn't take stress concerning maintaining their organization's data because it is not their primary job. Simply said, it is impossible to perform everything by oneself. One of the numerous benefits of outsourcing is the ability to have work accomplished at any hour of the day, night, or the entire week. As a result, whether or not you are physically present at your place of business, the integrity of your data is never in jeopardy. Moreover, by outsourcing, you'll get ample time, which you can use to focus on your company's core operations and maximize revenue generation.
2. Focus On Core Business Operations 
Internally executing eCommerce data listing will have a substantial impact on business productivity. This is because it will require internal staff to invest time and money to produce the required outcomes. Hiring a trustworthy third-party eCommerce data input services provider can help avoid these complications in more ways than one. The reason is committed data input workforce at the outsourcing organization is highly trained and experienced in handling eCommerce data listing; this will enable your organization to concentrate on money-earning business tasks or projects- consequently, better productivity and revenue
3. Avant-Garde Technologies 
Most businesses dealing with data input suffer from inconsistent processes because of the absence of modern tools and technology. However, one can benefit from cutting-edge tools and technologies by outsourcing eCommerce data listing services. The eCommerce product listing companies hold ultra-modern technology and innovative apps to ensure effective data input procedures. Additionally, through outsourcing, you can benefit from multi-skilled human resources at a minimum cost. The most cutting-edge technology can create accurate data input-output for your company.
4. Qualitative & Quantitative Work 
Operating with less experienced staff to supervise data entry can out-turn in subpar outcomes. The right and experienced eCommerce data listing firm might be hired to avoid this problem. The third-party company employs highly competent, devoted, and trained data input administrators. They will carry out all data-entering procedures with incredible precision and dependability. Additionally, professional outsourcing organizations continually train their workforce on the most recent data entry procedures, resulting in excellent outcomes. Further, many offshore firms have skilled quality control staff in their team to review the impact, find the fault, and rectify it before delivering it to the client.
5. Efficient Data Management 
Effectively organizing and controlling eCommerce product data input isn't an easy operation. Even a slight data management inaccuracy might hamper the overall performance of a corporation. This concern can be taken care of by outsourcing data entry. The outsourcing company's experts will digitize, simplify, store, and protect various platforms' data. In addition, it can help you extract the necessary data from an extensive database, ensuring data readiness is simple and uncomplicated.
Final Thought
Businesses, especially in the eCommerce sector, must continuously enhance their offerings to stay ahead of their competitors. Additionally, they must highlight their offerings to attract a massive customer base. But unfortunately, with the rapid market growth and development, they have to invest a lot of money, effort, time, and attention, which harms firms in the distant future. Therefore, the best action is to outsource ancillary tasks like eCommerce product data entry.
With a proficient, knowledgeable team and best-in-class infrastructure, tools, and technology, a third-party eCommerce data entry company can fulfill all necessary data entry and management requirements. Additionally, because of their affordable pricing, clients can significantly reduce overhead expenses, maximize sales, and focus on the main revenue-generating areas of their businesses.