When you see your bathroom pretty bad and consuming more resources, so you should add some amazing features which keep the bathroom alive and make it eco-friendly.
There are a bunch of benefits that only arise when you have an eco-friendly bathroom. It helps you to reduce resources and give a pleasant appearance to your bathroom. It maintains air pollution and provides a healthy atmosphere in the bathroom.
Saving resources is a step forward toward sustainability. Consuming less water and energy costs you to pay minimal utilities and preserve your expenses which ultimately increases your financial wellness.
05 Sustainable Ways to Make your Bathroom Ecofriendly
In the market, you will have various ways to have a sustainable atmosphere in the bathrooms but there are very few that efficaciously work.
As every step cannot make you win, the same as not every idea is useful to make an eco-friendly bathroom. By doing some epic research work you can have a dream bathroom.
Here we brought 05 sustainable ways to make your bathroom eco-friendly.
Bamboo Toothbrushes
Water Filter
Refillable Body Wash
Add Some Plants to your Bathroom
Use natural Sponges
Bamboo Toothbrushes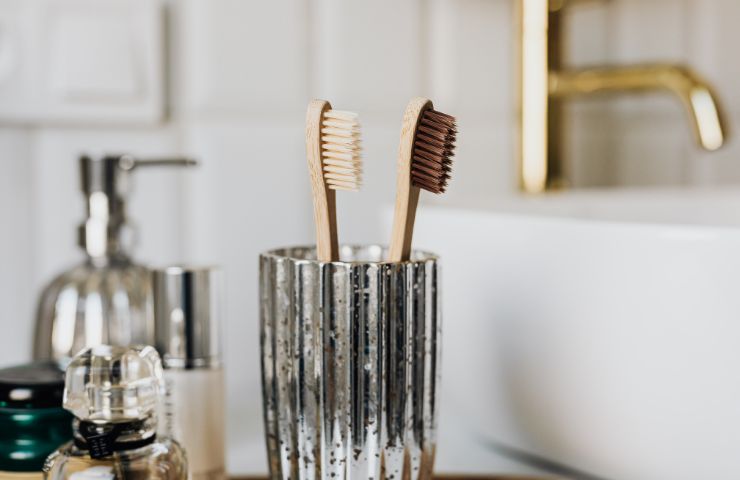 In this modern world, things are getting change regularly and we discover some amazing ways to protect each other. For instant, the use of plastic toothbrushes can also be toxic and harmful.
Products that are made of plastic are not easily decomposed or recycled. Recycling plastic can cost you more as plastic wastage spontaneously increases which causes global warming.
Since bamboo toothbrushes are organic in nature and they maintain an eco-friendly environment and also maintain your health. So, it is necessary to utilize any other alternative that prevents pollution and brings go green environmental solutions.
Bamboo is one of the fastest-growing plants which is harvested in less than five years, and it consumes less water to grow. It decomposes easily that's why it has less carbon trace in the environment.
Water Filter
When we hear about filtered water it sounds like drinking but in the bathroom, a water filter helps you to save some water and consume as much as you need.
Having a shower with a filter brings an impressive look to your bathroom. Pouring water or a traditional shower doesn't do the same since it does not have any fitted filter option that saves water to get misused.
Filtering water helps you to avoid any skin disease. Normal showers through water that possesses many dust particles and other elements that are not healthy for the skin.
Refillable Body Wash
If you are making an impact on the environment and switching from a polluted to an eco-friendly atmosphere so refillable body wash helps you to get there.
It is noted that more than 500+ million plastic bottles are utilized as beauty and care products since it is ultimately dumped in our landfill and sea that cause global warming.
It is effortless to use, and you can utilize it as you need. Using a refillable option can efficaciously minimize plastic waste as it can be refilled repeatedly until it is disposed of in the trash bin.
Add Some Plants to your Bathroom
Using plants is always essential for an eco-friendly environment. As plants absorb carbon gases and exhale fresh oxygen to the environment. It helps you to breathe smoothly and maintains air pollution.
You normally don't find plants in the bathroom since it looks a bit wild but due to uncertain temperatures, they can be favorable in the bathroom.
Adding plant in the bathroom increases fresh air and provide a good healthy atmosphere.
The plant's position must be well settled because over-water consumption can destroy plant life. The plant pot must be at the side of the sink or tub since it saves plants from over-watering.
Use Natural Sponges
Artificial things don't last long as it serves instantly but affects you in long run. Using naturally extracted materials will always benefit you more than non-natural ones.
You will have ample options but using natural sponges are best of all. It heals your skin and clears bacteria within your skin pores. You also go for Sea bathing sponges for body cleansing since it contains sea minerals that are very valuable for the skin and it makes your shower routine refreshing and spa-worthy.
Using natural sponges are more effective than other since it removes dead cells and purifies skin and gives you a natural organic glow. It is also better to use natural sponges for people who have sensitive skin issues and skin irritations. Natural sponges smooth your skin and help your skin against skin irritation other than synthetic sponges.
Conclusion
Making eco-friendly bathrooms is not everyone's preference because it takes more time and involvement. Only those people are doing such things that are more connected to nature.
Plastic products are no more sustainable since it harms the environment and doesn't get decay easily. People start using bamboo toothbrushes because they are eco-friendly and sustainable which gives you an organic and perfect environmental solution.
A water filter can save you from many diseases because it filters out many particles that are not helpful for the skin. Try to use refillable body wash since more plastic bottles create massive waste.
Plants always help provide a green environment as they respire fresh oxygen and absorb toxic gases. Natural sponges are better for the skin as it does not create any irritation. It cleans all germs and bacteria that exist in the skin's pores.
Read Also: Who is Jennifer Belle Saget