Loft conversions are the best way to gain a bedroom or two or a bedroom and ensuite. But which is the right one for you that fits your needs and budget? Here are some ideas arranged loosely from cheapest to most expensive that you might be able to do with your roof.
A simple loft with roof lights:
if, due to planning permission or financial constraints, you can't create a spacious and tall loft, leave the available roof open rather than dividing it with a wall and making it smaller. An easier way to do this is to install stairs, refurbish and purchase accent lights to make it a brighter and more habitable space.
As long as the headroom is concerned, you will probably have sufficient height along the ridge line to walk, and other space could be used for storage. The cost is less as there is no external work required.
Roof light loft conversion with a bathroom:
you can add a bathroom if your loft's height is tall enough. Imagine having a comfortable and cosy space with a private bathroom installed with a freestanding tub.
Part-width dormer conversion:
full-width dormer or Loft Conversion Fareham is not desired by homeowners sometimes. Or another reason could be that planning permission is not achievable or homeowners prefer smaller dormers. So, if a full-width dormer loft is possible, you can build a dormer around a window. This will keep most of the roof's original space inside and outside. However, this idea will not provide enough floor space.
Double-sided part-width dormers:
Luckily, if there is enough space on the other side of the roof, you can easily build a symmetrical double dormer roof.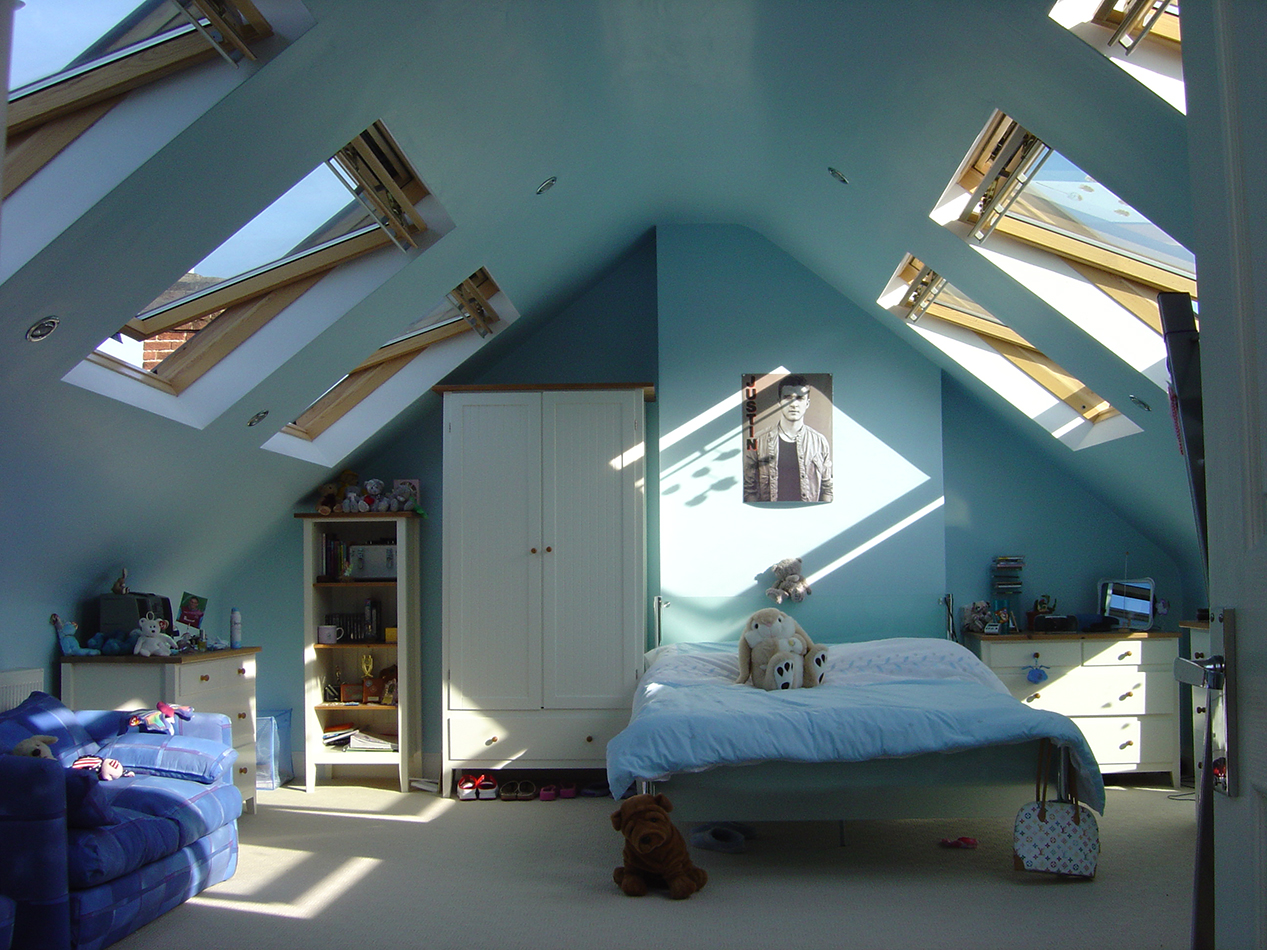 if you have a dead space, either unused or full of suitcases and bulky items, where you cannot put or install lights or anything such. You can turn it into a glamorous space with a little effort by installing the glass and enjoying the view with enough light.
Mezzanine space:
Opening up the ceiling and creating a double-height space always has a stunning effect. You can add a dormer here or simply skylights. The cost will depend on the original roof height. The job will be simpler and easier if you use eaves or have a tall roof.
The reason for creating a mezzanine space is twofold: either the floor height and roof space are insufficient to create a loft space (without raising the roof), or the property is semi-detached.
Suppose, according to your plan, you do not have enough space to build two bedrooms, and the stairs take up the remaining space. You can use this space by carrying out a small ensuite. Furthermore, if there is not ample space, you can install sliding doors between the bathroom and bedroom for convenience.
Rear dormer conversion:
Possibly the best way to increase your loft's space and head height. This type and style need planning permission, but the front of the roof does not change, and the house's structure remains intact. A rear dormer conversion gives you enough space to build a bedroom, an office, a playroom, a master suite, and enough room for a staircase.
Open-plan loft conversion:
If you are blessed with plenty of space, you can turn it into an open-plan kitchen, dining or living room.  this style is worth considering because it will not only give you a huge room, but luxury feels as well.
Dormer loft conversion Fareham demonstrate both a rear conversion to the ground floor and one at the rear of the roof. They both have full-height glazing, allowing enough light and views for the homeowner.
Initially, bifold doors were only used on the ground floor where they adjoin the living room and patio. However, there is no compulsion that you should only have a window facing toward the garden when you can have a full-width opening.
if you can be approved for a full-width and rear dormer, you are in luck. This will give you a full-height area like a rear-facing dormer do.