Understanding Image Annotation: Need, Use Cases, and Benefits
Why Is Image Annotation Essential for Business Growth?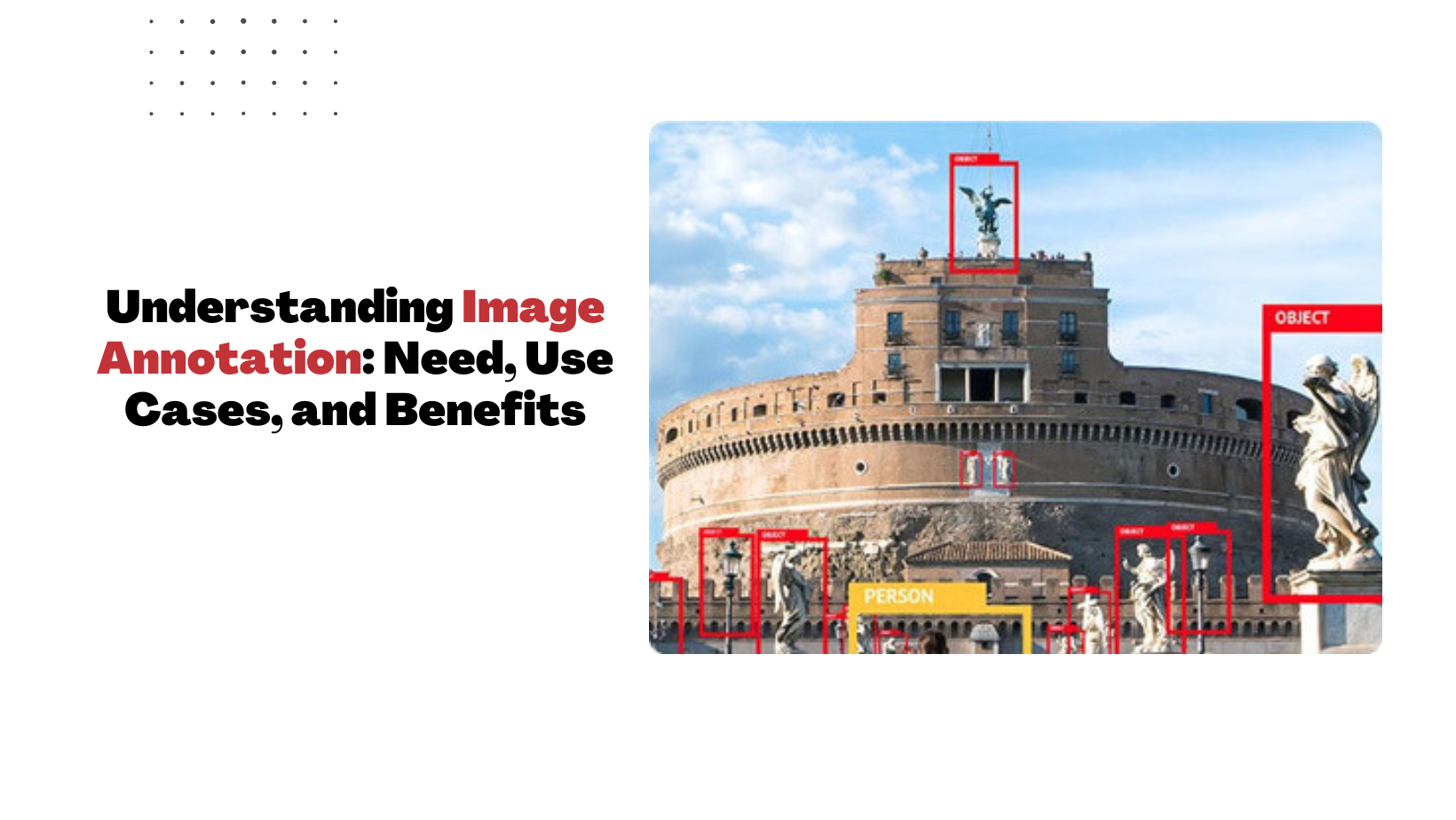 The modern business world is filled with technological revolutions and changes. The rising real-life implementation of AI/ML (Artificial Intelligence and Machine Learning) is a live example of how far we have come in terms of evolving technologies. However, at the core of every AI/ML project lies a simple technique to help machines understand the human world- annotation. 
Image annotation is helpful in identifying objects in an image and piecing together that information to establish a context. However, implementing this process on the ground involves a thorough analysis of images, accurate labeling, multiple quality checks, etc. It is a long and complex cycle that culminates into a dataset used to train an AI algorithm. 
This article will explain why image annotation is essential for your business. We will also discuss some business benefits of outsourcing image annotation to a reliable data labeling company.
Why are Image Annotation Services Important for Modern Businesses?
Image annotation is the process of annotating images based on a set of predefined attributes and categories. Algorithms use annotated datasets to produce a desirable outcome with improved accuracy and increased efficiency in computer vision models and image recognition systems. In artificial intelligence (AI), training data from labeled images are used in many AI-based applications, including image surveillance, medical imaging, autonomous vehicle navigation, and more.
Annotating images can be tedious, which is why many businesses outsource this task to human annotators. Nevertheless, outsourcing your image annotation needs to a reputed data labeling company can be the best option if you have strict security concerns around sensitive data, such as patient information or financial records.
Different Use Cases of Image Annotation Services
The field of image annotation has been growing rapidly, and a large set of applications rely on it. This section will explore some of the most important applications of labeling images.
1. Medical image annotation
Using computer vision and image annotation systems in the healthcare industry can provide several benefits, including reduced patient wait times, more accurate diagnostic results, and fewer backlogs in appointment scheduling. It is used in many medical applications, such as x-rays, CT scans, and MRIs.
2. Industrial image annotation
Industrial image annotation can be used in various industries, including manufacturing, oil and gas, and mining. A reputed data labeling company allows businesses to train their machine learning models on large datasets. It helps improve the accuracy of automated processes by ensuring that humans or machines have correctly labeled every step.
3. eCommerce and retail
Shelves are significant for retailers, but there's no easy way to track their status automatically. Checkouts are a special challenge because robots have trouble identifying products and the total bill without access to inventory information and pricing data. This is where image annotation can help.
4. Image annotation for video content
Image annotation is the process of labeling objects and scenes in a video. The goal is to assist humans in understanding the content of the video, allowing them to make better decisions about what they should look at next or how they should describe it. For this task to be useful, there must be some way that computers can learn from annotated videos so that they can generate new ones themselves. This could mean providing labels for all scenes or only specific ones (e.g., "person talking").
5. Agriculture
Image annotation applies to developing computer vision systems that support agricultural decision-making, including crop health assessment, yield forecasting, and crop analysis. The use of computer vision systems in this sector offers several benefits, such as increased productivity, plant health improvement, and soil quality.
6. Autonomous vehicles
With sophisticated ML training data guiding autonomous vehicles, they can make our lives easier. Image annotation enables the creation of these machines and prevents accidents. Image annotation is a key part of this process, as it helps train the algorithm to extract pertinent data (i.e., lane markers, speed limits, road edges) and apply it safely and efficiently.
7. Sports
Annotating a player's actions in sporting games images is a difficult task requiring human visual analysis. Thus, ML models present a method to automatically annotate players' actions based on features learned from game videos. Image annotation plays a crucial part in developing training data for the seamless performance of real-time tracking models.
Business Benefits of Outsourcing Image Annotation Services
As the volume of images we are annotating is near billions, there is a need for increasing the annotation expertise by using specialized personnel for training labels; an external provider can deliver quality by providing an automated image annotation service. Here are all the benefits you can reap by finding a reliable outsourcing partner – 
1. Accuracy
If you rely heavily on data from other sources, there's a high risk that your computer vision system will need to be more accurate. The best approach is to use real-world data to improve accuracy and boost performance. Pixel-perfect accuracy with an unmatched deadline commitment is necessary when creating annotated datasets.
2. Expertise in annotation and training data
It's essential to have the right expertise in your organization. To annotate images correctly, you need people who know the product and its features. You also need people who are trained on how to annotate images correctly. Finally, you should have someone supervising the process so it runs smoothly and without delay.
3. Scalability
If your organization needs to increase the number of images in a particular project, you should outsource image annotation to get the work done faster and more efficiently. If there are too many images for one person on their own, it could take months before all of them are correctly annotated. By outsourcing this process to an agency, you can get quality work at an affordable price with no delays!
4. Cost-effectiveness
A key benefit of outsourcing image annotation is that it allows businesses to focus on their core competencies, boosting productivity and profitability. In other words, outsourcing the task to a data labeling company helps you take advantage of its expertise and tools. This can be especially beneficial if you're a small business or just starting; it can cut costs while maintaining high-quality data to train your AI models.
5. Quality assurance
You can hire a vendor that has established a reputation for providing high-quality data, and they will take care of quality control. This means that you don't have to worry about whether or not the datasets are accurate or consistent; they'll ensure everything is up-to-date and ready to go when needed.
Conclusion
In the future, image annotation will be used to power many applications. It's already being used in self-driving cars and security cameras to help machines better understand the world around them. We hope our guide helped you understand the basics of image annotation and why it is vital in today's world.
A good image annotation process involves more than drawing a box around an object in an image. It involves time-consuming research, a high level of expertise, knowledge about the project, and an in-depth understanding of the technology used for the project. So, when selecting an image annotation services provider, it's essential to know what visual assets they've been producing in the past.
Also read: 5 Tips For A Small Business Website Design